Features
NPS Image Editor features a user interface that should be instantly familiar to users of the "classic" version of Microsoft Paint. It includes a plethora of features that help you accomplish anything from simple edits to more complex operations with ease.
Drawing Tools

NPS includes a plethora of drawing tools – brushes, shapes, filters, and more. Some of the main features include:
Brushes of almost any shape;
Multiple selection tools including freeform (lasso) select;
Shapes including rectangles, ellipses, and Bézier curves;
Processing tools such as black-and-white, red eye removal, and bitwise operations;
Photo manipulation tools including a clone stamp and warp tool;
Text tool with customizable fonts and effects;
Standard ancillary tools such as panning and eyedropper
The Drawing Tools page offers more detailed descriptions of the available tools.
Layers
Perform non-destructive editing operations by separating your image data out into multiple translucent layers. Operate on one layer without affecting others. Move layers around without moving their pixels or overwriting the pixels below.
Blending modes
Pixels within the layer can be blended with pixels below using 33 different blending modes. The supported blending modes are: Normal, Dissolve, Keyed, Dodge, Burn, Multiply, Screen, Overlay, Hard Light, Soft Light, Hard Mix, Add, Subtract, Divide, Difference, Exclusion, Lighten, Darken, Lighter Color, Darker Color, Bitwise AND/OR/XOR/XNOR/IMP, Red/Green/Blue, Average, Hue, Saturation, Color, Lightness, Roll Hue.
Tons of effects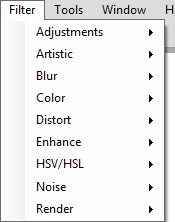 Apply one of nearly 50 filters to your entire image, or just a portion of it. Tweak color, brightness, contrast, and more; blur, emboss, and sharpen your image; or apply some downright wacky effects for fun. Not happy with the selection of filters? You can always create your own, and more will be added throughout the lifetime of NPS.
Flexible workspace
You can zoom into the image at almost any zoom level, with the option to display a grid for an easier view of individual pixels. Additionally, you may hide unused panes from the window to give yourself more editing room, customize the set of color swatches, and change the way the image scrolls while being resized.
8-bit alpha transparency editing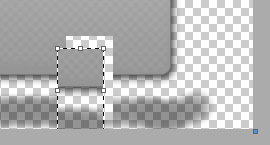 NPS Image Editor fully supports 8-bit alpha-channel transparency, allowing you to modify the opacity of pixels. It is possible to either blend or overwrite transparency both when drawing and when working with a selection, and to attempt to restore transparency in a linear or single-color mode. Additionally, it is possible to work in opaque or keyed transparency modes for those cases where introducing additional transparency into the image is undesirable.
PNG and 32-bit BMP files, which are commonly used in Windows resources such as themes, are supported.
Extensive color tools
NPS includes an extensive set of color-related tools, including a high-power color dialog and Color Resolution Engine. In fact, these tools merit their own page.
Transformations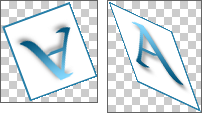 Rotate, flip, skew, and resize your image to your heart's content. Manipulate colors using a color matrix. Copy, paste, and move regular and irregular portions of your image with various transparency modes. The possibilities are limitless.
Color Schemes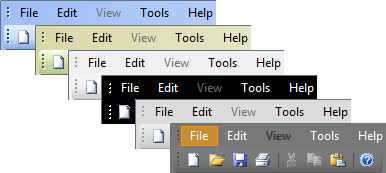 You can customize the appearance of NPS Image Editor and Color Picker with numerous color schemes, ranging from light to dark, minimalist to colorful. You can also create your own if you're a more advanced user.
Unlike many skins and color schemes available on competing products, NPS's color schemes are able to follow your system color settings in order to seamlessly blend in no matter how you set your color scheme in Windows.
Small Footprint
NPS takes up less than 10 MB of space once fully installed, and the installer is under 2 MB in size. There are no startup or background tasks, so if you don't open the program, it won't consume any resources. This makes installation a no-brainer, even on older machines with dial-up internet access and limited disk space.
More features coming soon!
To learn about new features coming soon, please see the Roadmap.