Customizability
User-specific settings
You can customize the apperance and behavior of NPS via the Configuration Panel. Here, you will be able to choose anything from the default behavior of new documents to the transparency background. Settings are saved per individual user, allowing each user to customize their settings on a shared PC.
Color Schemes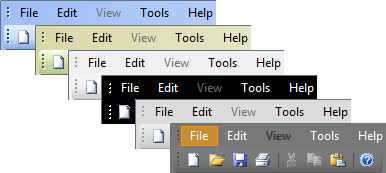 Don't like the appearance of the main NPS window? You can easily change the color scheme to suit your needs. Light, dark, and colorful options are available, and you can easily build your own if you desire.
Unlike many skins and color schemes available on competing products, NPS's color schemes are able to follow your system color settings in order to seamlessly blend in no matter how you set your color scheme in Windows.
Full, Per-User, and Portable Installation
NPS Image Editor is self-contained and does not write to the system registry, making it trivial to install NPS in either a full multi-user configuration, single-user installation, or even on a flash drive.
Components and Extensions
NPS supports custom color schemes, palettes, brushes, textures, filters, and more. You may add them as they become available, or you can even create your own. On the flip side, you can speed up loading and save disk space by disabling or deleting components of NPS that you do not need. All of this can be accomplished via the NPS Component Manager, accessible via the Tools menu.